How We Can Help You Hire Skilled Labor
At Work With Your Handz we know that finding the best talent for your company is a challenge that requires thoughtful attention.  We find the best fit based not only on skills, ability and knowledge, but based on your company's culture and core values.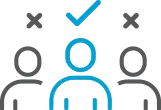 SKILLED TRADES RECRUITING SOLUTIONS
Finding the best talent for your company is a challenge that requires thoughtful attention. We find top candidates based not only on skills, ability, and knowledge but also on your company's culture and core values. We specialize in providing a personalized recruiting strategy to hire skilled labor. Our services include sourcing candidates with specialized software reserved for the recruiting industry. In addition, our full-time Talent Sourcer scours the Internet, social media, and job boards for those hidden passive candidates.
Our recruiters thoroughly vet candidates with intensive phone screenings where we dive deep to discover qualified applicants' soft skills, their level of technical capabilities, and experience in their trade. In addition, we uncover what matters to them for benefits, schedule, salary, and other parameters, as well as determine if they meet your team's skill level required, your compensation package, and your company's core values.
More importantly, we learn those unique characteristics that make them an excellent fit for your team, and can educate them on why your company is an industry leader and an employer of choice. We follow our candidates through every step and help with final negotiations, background checks, drug screens, driving records, and reference checks.
Gain a competitive edge in your industry by letting us help you find superior talent because we know having the best and brightest has a direct effect on the bottom line.
SPECIALIZED REPORTING AND RESEARCH
We offer:
Applicant Source Analysis
Weekly Activity Reports
Salary Surveys 
Benefit Surveys
Let us know what information you need to help take your company to the next level.  Having the right amount of talent when you need it, paying competitively in your market and knowing what your competitors are doing play keys roles in becoming the industry leader.  Knowledge is power, and we can give it to you.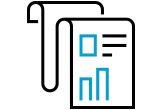 TALENT ANALYTICS AND SOLUTIONS
We offer a multitude of reporting services that will give you the insight you need to better manage your talent acquisition dollars.  We can help give you retention rates, dollar cost per hire and an assortment of other metrics that will give you the powerful information you need to make the best hiring decisions based on real data specific to your company.  We can provide an analysis compared to known industry standards and best practices.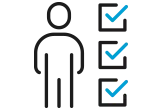 We offer:
Retention Analysis to Reporting

Resume Services for Applicants

Background Checks, Drug Screens and MVR through Verified First
We partner with Verified First, the leading resource in their industry, to give you the most thorough and complete criminal background and drug screenings available.  This add-on service can be customized to fit your company's requirements.
Work With Your Handz helped us acquire some talent for my team and they also serve our clients as well with recruiting needs. Kelly, Dana and Tammy offered a world class experience for me and my team. Great communication, and perfect results. Flow of applicants was exactly as promised and on point. Such a great organization. If you have the chance to work with them you will be pleased with the result. In todays business landscape being delivered your exact expectations is rare, they provide that for us every time .
WOW! I have never used a recruiting service to fill positions at my business because I have been skeptical of paying someone to do what I can do. I decided I wanted to grow this year and with all of my other work consuming my time, decided to give Work with Your Handz a shot. Nervous about making the investment, I signed on the dotted line and have been absolutely thrilled with their process, professionalism, and ability to match individuals with my personality as well as my vision for the business. A few weeks in and I have 2 new employees that I believe are above the standard. If you are looking to grow and unable to find what you need on your own, I highly recommend giving this team a chance. Let them help you find the right people to push your business to the next level!!
Where do I begin?! WWYH has been a great tool for us to enhance our recruiting game! We believe recruiting is a VITAL necessity for any business but especially when it comes to working in the trades. Dana and Kelly (and their team) really understand this importance as it applies to the trades. They value communication with their clients and we meet regularly to ensure we are all on the same page at all times. The highest amount of value they have brought to us is definitely offering us more freedom to keep our focus on other aspects of our business. 1,000% recommend!
"The single biggest benefit for us in partnering with "Work With Your Handz" has been knowing that there is a team searching every day in our community for good candidates. They find them, qualify them, and tee them up for us. That eliminates a lot of the legwork on our end. We consistently get several candidates a week to review and consider. They communicate with us regularly to understand our needs, our values and our expectations. They make sure to follow up regularly to keep us all on track as we grow our team with quality people."
"We have been with you since the very beginning and you continue to impress us with your professionalism and hard work. Finding the right  people to work in our industry has  been very difficult for us over the  years, you have come to us every month with quality candidates. Keep up the good work, I see a long relationship with our two companies."
"I can honestly say Work With Your Handz has helped increase our bottom line by finding the best talent in the industry. They are proactive and work  and collaborate incredibly well with our HR team. We get consistent next level  service. They have implemented a  process that complements our existing  structure, and we are continually impressed with their dedication to helping in our success."
"The Building People are excited and impressed with the support Work With Your Handz has given our team. Kelly, Dana and the entire team have been quick to respond and successfully placed key candidates on our team. We appreciate their willingness to understand our mission, core values, and principles which has been instrumental in bringing the right people to our talented team!"
"Work With Your Handz has been a huge help in finding me qualified plumbers to continue providing outstanding services to my clients. Recruiting has always been a task that is put aside when I get to busy, NOT ANYMORE! Dana and Kelly are very responsive and work with the requests and specifications I have regarding all positions I need to fill.
They keep the candidates and interviews flowing."
"We have been using the services of WWYH for many months now. Dana and team routinely provide qualified candidates for us to interview for the open positions in our company. They understand the industry and our needs, provide support at all hours and are receptive to suggestions. I highly recommend their services."
At Barker Heating & Cooling we understand that our employees are our biggest asset. Making sure new hires are a good fit for our culture and that they have a clear understanding of the team they are possibly joining is vitally important to establishing a successful working relationship. We decided to try a recruiting firm because we didn't have the bandwidth to do this as thoroughly as we wanted to. That's where Work With Your Handz comes in! They take the time to get to know your business in depth before starting to recruit for you.
They're very communicative and stay in contact with me so I'm always updated on where individual applicants and campaigns stand. They're a team of professionals that truly care about their clients and matching them with the best applicants.
They take their jobs seriously, personally, and are diligent in their efforts. All of the applicants they've vetted for us were great candidates and ones we probably wouldn't have found on our own through our traditional recruiting methods.
The team at Work With Your Handz has been incredibly helpful in getting us the talent needed to reach our goals as a business. With their help we have been able to become almost fully staffed in a job market that is becoming increasingly difficult to find employees in. They are very easy to get in touch with and take a hands on approach with their clients. They have helped us fill positions at all levels of our company from GM to our hourly technicians. We are grateful for everything that they have helped us with so far and look forward to continuing to work with this amazing group to fulfill our staffing needs.
We have spent a lot of time and money on our own seeking out people for our open positions with the ongoing labor shortages. We were referred to Work With Your Handz, and boy am I glad for it. They got the job done in a timely manner (much faster then we ever could have), and they were fair and very easy to work with. Not everyone understands the ins and outs of hiring for the trades. I could tell very quickly they knew what they were doing. It was impressive. I'm looking forward to a long working relationship with Dana, Kelly and their team. They were awesome! … Highly recommended!
Work With Your Handz did a great job in sourcing leadership prior to Stallion Services succession and a successful exit. Thank you very much, we could not have done it without you.
We have been working with the Work with Your Handz team for a little over 2 months and I am so happy with the quality of leads they have presented us. We started the hunt for technicians hoping to find one good candidate. We ended up with so many, we could not hire them all. The group of professionals at Work With Your Handz have been an absolute joy to work with and have delivered EXACTLY what they promised and then some! They are the very best in recruitment for the skilled trades and a valued partner of Maynard Select
Work With Your Handz has exceeded all of our expectations. They have brought us so many good applicants that we met our hiring goal in a fraction of the time anticipated. We have three different categories and Kelvin filled them all. I do not hesitate to recommend them.
Work With Your Handz has been a delight to work with. They do an exceptional job of listing to your needs and crafting a plan to execute a campaign that brings in quality candidates. I meet with our representative (Kelvin) on a weekly basis and find him to be professional, hardworking, attentive, and organized. I would not hesitate to refer this company as a great recruiting option.