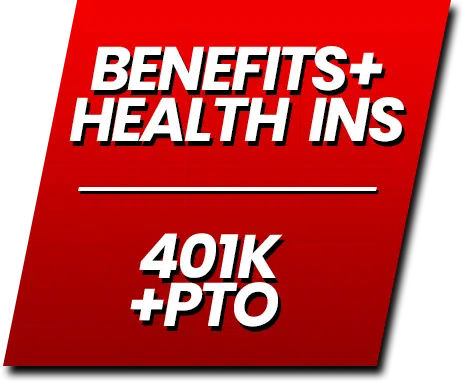 Now Hiring in Gibbstown, NJ
- Plumber
- Plumber Field Manager
We are hiring a Plumber & Plumbing Field Manager!
Are you a Residential Service Plumber or with management experience who enjoys being challenged, helping others, and being part of a growing team?
If so, then this job is for you!
Our company strives to exceed expectations by ensuring that all necessary work is completed to the highest standards. As a family-owned business, we treat our employees as such. We value our team and believe that they deserve the best!
We're looking for a LEADER who can MOTIVATE & TRAIN, a service team to success.
What can THEY do for YOU?
The Field Manager utilizes customer service and technical training to educate and assist plumbing technicians with regard to educating customers in choosing services, finance options, and handling customer relations.

Effectively manages plumbing team members to ensure team objectives and sales goals are met.

Has the ability and willingness to learn the industry standards and practices, including product details and company services offered.

Offers exemplary customer service, including maintaining customer relationships and ensuring repeat customers by coaching your team to upsell products and services and taking care of any customer concerns or complaints quickly and professionally.

Assists Plumbing Technicians with customer service, pricing, estimates, and technology applications such as our P.O.S. software.

Assist company owners with training, truck inspections, and disciplinary actions up to and including the termination of the technician.

Resolves customer issues and complaints to ensure customer satisfaction. 

Regularly audits work being done and customer service is provided to ensure all standards are met and that repair work is carried out effectively, correctly, and thoroughly.

Oversees team members performing inspections, preparing reports, and doing repairs; if necessary, carries out these job duties personally to ensure the highest quality of work.

Promote enthusiasm and brand loyalty during daily huddles, team meetings, and 1:1's.

Makes residential plumbing service calls when needed.
Experience with a residential plumbing service company is required.

Supervisory and training experience required.

Possess the ability to inspire both personal and professional growth in our team members

Ability to drive team performance to achieve all business goals and objectives

Top-notch leadership skills that inspire and motivate others to attain company goals

Strong customer care skills

Organized and detail-oriented

High integrity, exceptional communication, and social skills

Proven ability to make solid customer connections and relate with customers positively
Fill out our application to get started: